Black Friday - 50% off any session fee + 50% off any prints, products or digital images
$

25.00 -

$

150.00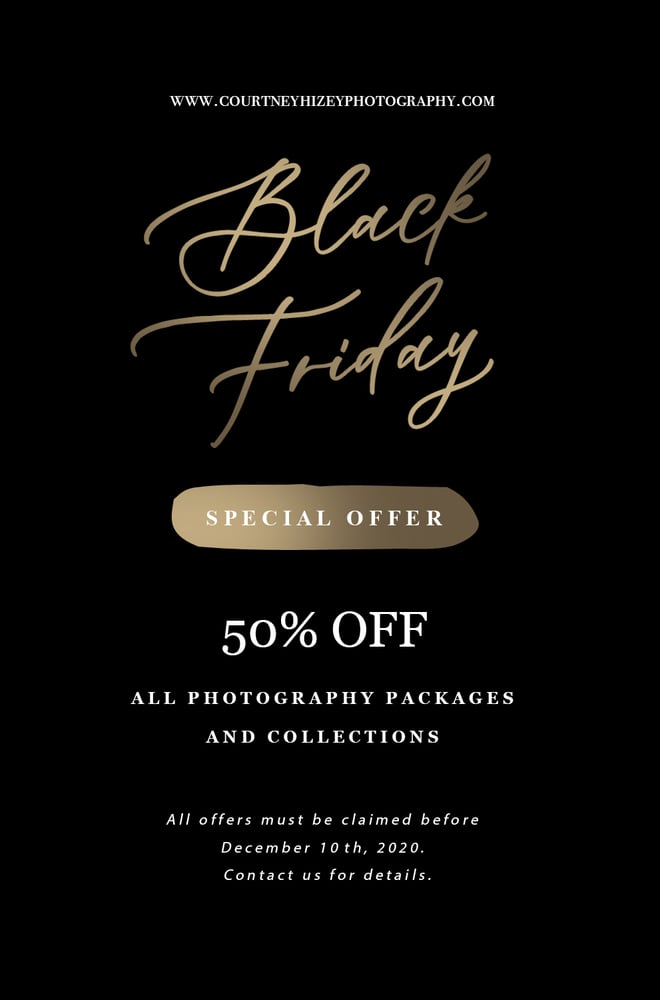 Please read all information below:
50% off any session fee + 50% off gallery purchases- ONLY A LIMITED AMOUNT AVAILABLE
* To be used in 2020 ONLY*
$25 for 15 minutes in studio (one baby, child or adult--perfect for headshots or a sitter session)
$75 for 30 minutes in studio (family or child)
$100 for a one hour session for family or children session in studio OR one hour on location (travel charges apply for locations over a 20 mile radius of 01749)
$125 for a 1 hour cake smash in studio (includes cake)
$150 for a 3 hour newborn session in studio
For more information on sessions with CHP please go here:
https://www.courtneyhizeyphotography.com/investment
You are paying 50% off for the session fee ONLY. The session fee is the service fee and does not include any prints, products or digital images. Prints products and digital images purchased separately and will be available at 50% off with this Black Friday deal.
https://www.courtneyhizeyphotography.com/productguide
Your purchase is non-refundable since we only offer a certain amount of these deals, If you do not use your session within the time frames valid, you can use the amount purchased towards a regular session.
Studio hours are M-F 10am-5pm
Outdoor on locations sessions take place M-F an hour before sunset.